This week, as we celebrate IBCLC Day, we also want to celebrate the journeys of amazing IBCLCs! IBCLCs come from diverse backgrounds just like the clients they serve. They work in a variety of places around the globe. And this IBCLC Day, as we say "Thank You" to the IBCLCs in our lives, we celebrate how they got to where they are, and look forward to hearing about where they will go!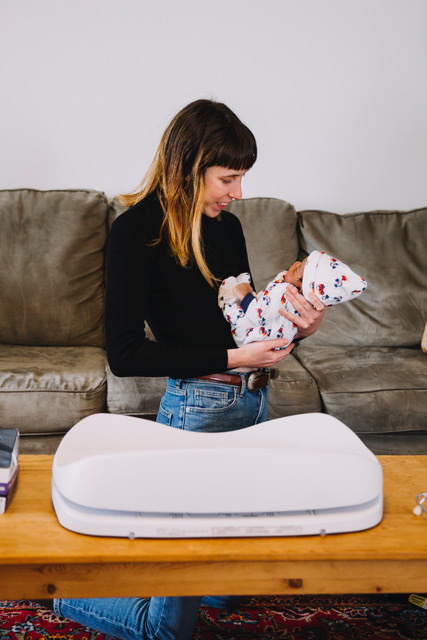 Today, hear the journey of Stephanie Brown, IBCLC, of the Philadelphia Midwife Collective, in a guest post by Stephanie.
My journey into the lactation work started with a job as a nanny. She was 6, I was 21, we were both young and we spent afternoons reading books, climbing monkey bars and diving into our imaginary worlds. Nine months later, she was diagnosed with leukemia. It was a shock. I felt in over my head but continued caring for her many years into her illness.
That was such an altering experience while the work shifted from focusing solely on her to integrating the entire family. She died 7 years after her diagnosis and it drove the direction my work has taken. I became a birth and postpartum doula shortly after and while I loved the non-clinical, non-judgmental support approach, I felt lost in how best to support folks through their feeding journeys. I became a CLC (Certified Lactation Counselor) and still felt lacking in scope of how to support parents in their infant feeding choices.
I finished the coursework necessary for Pathway 3 and set up a meeting with the local Breastfeeding Resource Center that offers clinical hours to applicants. On the day of my IBCLC internship interview, my stepfather was in an accident and died 10 days later. I was terrified to pursue my IBCLC without really knowing what my endpoint would be, but I felt a clarity I hadn't in months about what I needed to do next. I decided to trust the process and move forward.
Wandering through the trauma I had experienced many things surfaced for me, one of which was my queer identity. I focused my energy on serving the queer community because large scale healthcare has proven to fail any marginalized group including the LGBTQA+ community.
I currently work in a local hospital in addition to my private practice. I identify myself as a safe space in a clinical setting to be exactly who I am without judgement. I owe the empathy that I have to the losses I've experienced, and I am grateful for my non-clinical background in a hospital setting because I try to focus on the entire dyad and not a patient number or a chart.
I am dedicated to offering evidence-based, judgement-free clinical care that is also actively anti-racist and as non-biased as possible. I identify as a white able-bodied privileged non-binary femme and use she/they pronouns. That's my story!
Stephanie Brown, IBCLC
Stay tuned as we meet two other amazing IBCLCs this week to hear their stories! Read about Dee Ann Pascoe and Jabina Coleman.
Share this