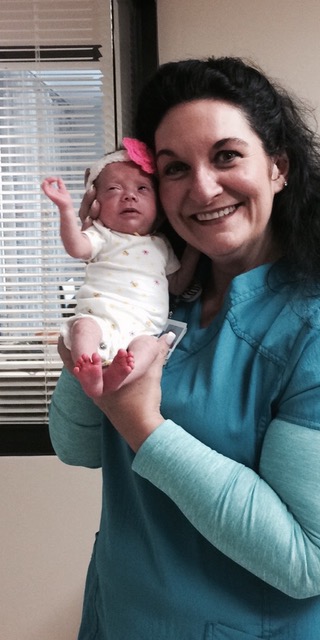 Happy IBCLC Day! As we celebrate this week, we continue to "meet" inspiring IBCLCs. Today we hear Dee Ann Pascoe's story in her own words.
Hi. My name is Dee Ann Pascoe, RN, IBCLC. For years and years I was so certain that I wanted to be a labor and delivery nurse … that is, until I became one for about 6 months. Don't get me wrong, birth is truly a miracle and each one is a blessing. I just started to notice that just when all the teaching, breastfeeding, bonding, and newborn care started … they would whisk away Mom and baby to the postpartum unit. I would think to myself; "I want to do THAT!!!"
I immediately transferred to the Mother-baby unit and began the journey that brought me here. I was always the "go to" nurse who everyone would ask, "Hey Dee Ann, can you please go and help my patient in Room 123?!?" I never had the time with a full load of patients, but I made time, and there is where I found my passion.
There is no greater joy for me than when a tired Mom and a learning baby finally have the lightbulb moment with my help and it just clicks!! The baby is deeply latched, mom is smiling through tears, and sometimes so am I. That's my moment!! My spike of the football moment! My happy place!! It remains a blessing that I get to do what I love each and every day as a lactation consultant for UT Health East Texas.
When I decided to pursue my IBCLC certification, I attended one of Marie's Comprehensive Courses in Dallas, Texas. As her student, I quickly knew that I was being taught by someone who had the same passion for breastfeeding as I do!! To say Marie is enthusiastic is an understatement! I was ignited and on my way with the tools she gave me to prepare for my exam. With pride, I am pleased to say that I first became an IBCLC in 2008.
I have since been to other classes to expand my knowledge as a lactation consultant, and I always choose Marie and her Breastfeeding Outlook. I just sat for my 10-year recertification board exam, and yes you guessed it, I took Marie's review course and passed again! Marie has been there throughout my lactation consultant career and I'm so very thankful for her continued enthusiasm and knowledge base. I'm proud to call her my friend and colleague.
Happy IBCLC Day to everyone!!
Dee Ann Pascoe, RN, IBCLC
Stay tuned this week as we meet yet another wonderful IBCLC, Jabina Coleman, and continue in our IBCLC Day 2020 celebrations! If you missed out on reading Stephanie Brown's journey yesterday, read it here.
Share this