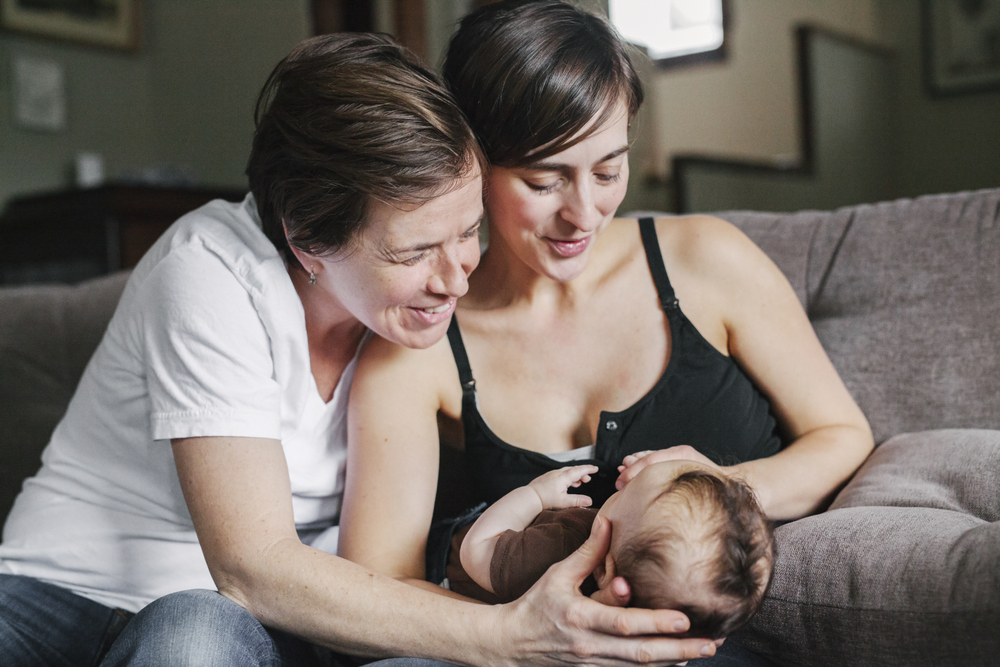 Good communication is a central skill for all healthcare professionals to master. We must be well-versed in communicating with all types of families, including those in the LGBTQIA community. (And, LGBTQIA communication is a topic that could for sure be fair game for the IBLCE exam! )
I am not an expert on this topic. I feel woefully inadequate to write this post, really. But I'd like to share some simple things that I've learned which might help others to effectively communicate with LGBTQIA clients.
Be familiar with the meaning of several terms
Good communication starts by learning the meaning of several terms. This very helpful list gives not only the definitions, but also, some clear guidelines for preferred and offensive terms. The LGBTQIA Resource Center also points out that different terms mean different things to different people, and has an ever-evolving glossary.
Focus on inclusive and gender-neutral language
Whether you're interviewing a client or creating a form to be completed, use inclusive language especially when you communicate with your LGBTQIA clients. Rather than asking about a husband, or even a spouse, ask about a partner.
Ask about the client's preferred name. Hopefully you do that with all clients. (Maybe you already know a client whose name is Marjorie, but she prefers to be called Jane.) But for a transgender individual, it's even more important to ask about a preferred name. Similarly, ask about a preferred pronoun.
Watch the terms "mother" or "father." The word "parent" does the job, don't you think? Similarly, when asking what the parents have named the new baby, you could respond, "Oh, Michael, that's a nice name. And what will you want Michael to call you?" This opens the door for the new parents to tell you how they want to be recognized.
Don't label
No one likes to be labeled, including LGBTQIA clients. And the label that might have fit for any of us 10 years ago might not fit for us now.
Ask first, and then follow the client's lead. Remember, too, that not all terms are universally accepted. Just like all clients are unique, each situation is unique, and the important thing is that the client is comfortable.
Check yourself
Is your uneasiness showing? If so, apologize to the client(s) for being gauche, and ask for their patience. Then, resolve to do a little role-playing before caring for others and to improve how you communicate with your LGBTQIA clients.
Try to avoid an awkward pause
Over many years of being a staff nurse, I have often felt awkward when someone revealed personal or unexpected information about themselves. Haven't you? To avoid an awkward pause, role-play with someone else about various scenarios, including how to communicate with your LGBTQIA clients.
I try to be ready with a simple, respectful response that works in many situations: "Oh, okay. Thank you for telling me that […being open with me…sharing that information with me…] and giving me a chance to better understand you." You'll need to find your own words.
Likely as not, both you and the client will feel more at ease if you can avoid that awkward pause, and the rest of the conversation will likely flow a little better.
Ask open-ended questions
It's always appropriate to ask, "Is there anything else I should know that would help me to help you in your parenting journey?"
Focus on what you're there for: to help! When you communicate with your LGBTQIA clients, asking open-ended questions allows any client to tell you as much or as little as they are comfortable with.
Asking open-ended questions is a great way to communicate with any client as it lets them lead and share. It's also a respectful, effective way to meet their individual needs.
Start simple, keep learning
I'm not an expert on communication techniques, or on LGBTQIA care. Notice that most of what I've suggested here is merely an extension of respectful communication with any client.
I've read some research studies, applied a few tips from Anne Devine to the lactation and parenting context, and learned some real-life, simple, effective communication techniques as I've gone along.
I've suggested a few resources that you many find helpful in learning about better communication with your LGBTQIA clients, and you'll find more, I'm sure. The Joint Commission has a field guide for advancing effective communication that you may find very helpful. Start with what you know and keep learning.
Communication skills aren't the only skills we need to help LGBTQIA clients. You can learn more about helping same-gender breastfeeding couples from expert Kathleen McCue.
But without first having good communication skills, you can't help any client with the specific issue or problem they are facing. Stay tuned for a post about providing gender-equitable care. And, if you have more tips on how to better communication with LGBTQIA clients, please let me know in the comments below!
Meanwhile, do you need to satisfy that recent 5 communication hours requirement from IBLCE? Or learn how to get the right answers on the exam, or enhance your ability to communicate effectively with your clients? I can help you! Buy my Communication for Lactation Consultants today!
Share this