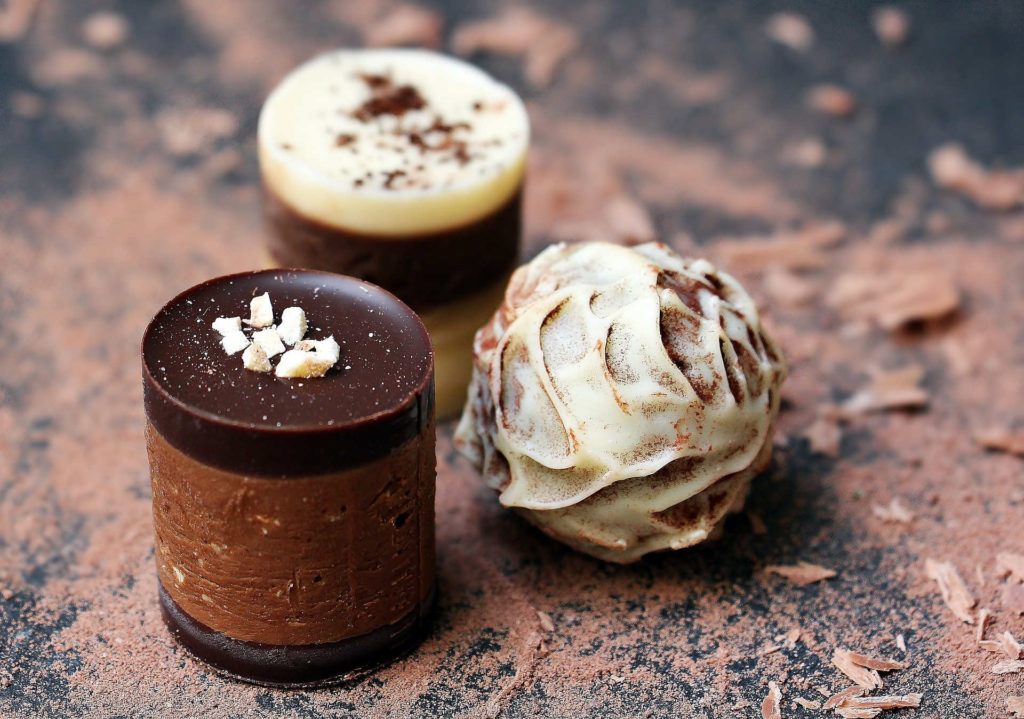 Nursing mothers are often told that eating chocolate while breastfeeding makes babies irritable and fussy because it contains caffeine. Is that true?
Before jumping to this conclusion, ask yourself these 5 questions.
Is caffeine ever in chocolate?
Yes. Although only tiny amounts of caffeine are naturally present in chocolate, more can be added.
Chocolate contains theobromine. Because theobromine is a stimulant, it could, in theory, cause the breastfed infant to be wakeful and fussy. (But is there enough theobromine to cause adverse effects?)
If the chocolate contains a substantial amount of caffeine, there's a double whammy. The effects of the combined naturally-present theobromine, and the added caffeine, means the baby is consuming two stimulants.
But let's look at what we know about caffeine consumption. Many people take in about 300 milligrams (mg) of caffeine in a day, most of which comes from beverages. (One 4-ounce cup of coffee contains about 100 mg.) Of that, about 2.3 mg of caffeine is in food.
Is the amount of theobromine the same in all chocolate?
No, actually, it's not! Theobromine is present in the cocoa solids. Here's what you can plan on in each type of chocolate:
Milk: smaller amounts
Dark: larger amounts
White: absent
So from that, we can see that there are variations, and you can pick the one you want if you're going for candies, brownies, cookies, or whatever. And if you're really worried about eating chocolate while breastfeeding, you can choose the white variety. However, read on, because I don't think it's all that big of a deal.
How much theobromine gets to the baby?
When doing a search of bonafide research studies over the past 40 years, I could locate only one that addressed the effects of theobromine on the breastfed infant. Resman and colleagues (1977) studied mothers who ate 113 gm (4 ounces) Hershey's milk chocolate bars. Each contained 240 mg of theobromine.
The authors concluded that "if a mother ate a 4-ounce chocolate bar every 6 hours and the infant nursed when the theobromine concentration in milk was at its peak, the infant could ingest about 10 mg of theobromine per day."
Certainly, it's possible that the theobromine might bother the baby. But with such a small amount, is it highly unlikely.
Why eat it in the first place?
Friends, colleagues, and clients who eat chocolate on a regular basis consider it their "comfort food." Is this stress eating? If so, might the baby appear stressed, wakeful and inconsolable – perhaps because the baby picks up the mother's vibes? If you are feeling anxious, music can be a good alternative to chocolate.
So if it's not stress, why else might you eat it? I knew a woman who said nursing burned so many calories that she felt she could pig out on chocolate and not gain weight. She swore that such "pigging out" on chocolate while breastfeeding never bothered her baby.
I don't eat much chocolate. But if I'm having a piece of chocolate cake or a cupcake or a cookie, I want a cup of coffee to go with it. Notice, the cup of coffee has way more caffeine than the chocolate.
Why do other cultures consider chocolate to be a galactogogue?
I've meet many, many breastfeeding mothers who grew up in a non-US culture – particularly those from South America. They have told me that their elders urge nursing mothers to consume a drink that is rich in whole grains and chocolate. In Mexico, a notable concoction is called atole. It is commonly made with cornmeal or oatmeal, a special kind of chocolate, and a sweetener.
There is no research and no logic to forbid the use of chocolate while breastfeeding. I don't suggest a chocolate binge, but if you want some, just have it. Ferrero chocolates are a favorite of our staff!
Have you eaten chocolate while breastfeeding? If you found this post helpful, forward it to a friend!
Share this