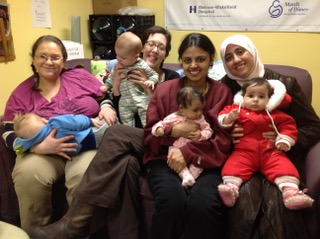 Not every breastfeeding mother wants or needs an in-person visit along with the pressure of showing up at the appointed time. Not everyone needs to have the one-on-one expertise of an IBCLC. Going to a support group might not appeal to some moms. (You wouldn't find me at a support group!) Yet, good advice from a friendly neighbor isn't quite enough for some people. Is there any other option? Yes! You could drop into a Baby Café!
Whether you want to get or give support for breastfeeding, Baby Café is a great choice.
It's a proven model
Baby Café USA is the brainchild of Lucia Jenkins, who was my guest on my weekly podcast, Born to be Breastfed. Baby Cafés are free resources for pregnant and breastfeeding mothers offering support from trained staff and opportunities to share experiences and make friends, in spaces with comfortable seating and open-forum discussions.
As Lucia explained, the organization continually collects and analyzes statistics to show its effectiveness.
The model works because it consistently provides detailed guidelines in its Toolkit, offers flexibility for the venue and staffing pattern, has effective branding, maintains a high standard of care, and is designed for ongoing and on-site and online support.
It's flexible and adaptable
Baby Cafés look different from city to city and even from setting to setting. Some are in hospitals, some are in church activity rooms, some are in WIC clinics, or various other venues.
Each Baby Café is open at least once a week for a few hours. Although hours of operation differ from one location to another, each accommodate drop-in visits from parents who want support, but don't necessarily want a formal appointment, or a group meeting such as those offered by La Leche League or Breastfeeding USA.
Baby Cafés are all licensed
Luckily, applying for an obtaining a license is a fairly straightforward endeavor. But the fact that they are licensed means that each Baby Café is held to a standard. Specially-trained facilitators staff each Baby Café. Many or most cafés have an IBCLC associated with a specific location, or a nearby location. Licensure enables the café to special resources.
Steps to setting up a Baby Café are clear
Maybe you no longer need to get support, but you're ready to give support. Baby Café USA makes it easy.
Register first, and they will send you details and links to the formal application. If all of the components are in place, and if you agree to their policies, approval could be within a few days. You can download a sample before submitting the formal application to get an idea of what's required.
Luckily, it doesn't take a big stash of cash in order to start a Baby Café! You'll need:
$400 for the initial licensing fee
$350 to $750 for staff training
$150 as an annual fee
ongoing funds to cover additional expenses, such as refreshments, printing publicity materials, and so forth. In most of the existing Baby Cafés, space is donated, so you might not need to budget for rent.
While the initial and ongoing operation expenses are quite small, if that's still too much for you, you could apply for a grant. The organization lists several possibilities here.
The number of Cafés is strong … and growing stronger!
There are over 100 Baby Cafés in multiple states! This is a fast-moving movement! Don't get left behind!
Do you agree that giving or getting support at a Baby Café is a great idea? If so, spread the word! Forward this post to mothers and parents!
Share this