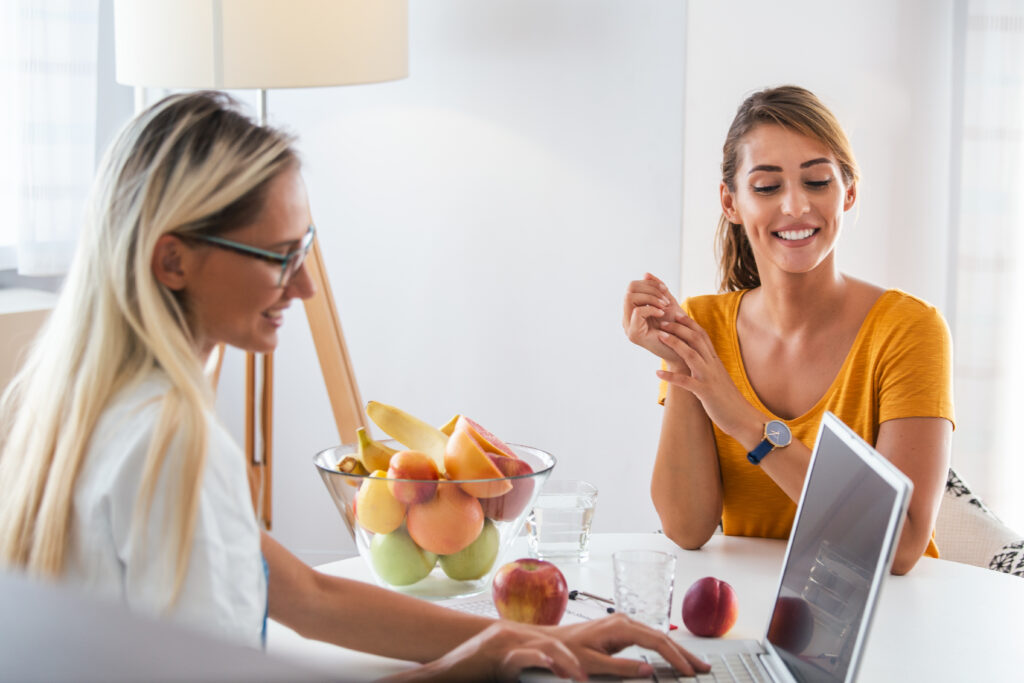 Do dietitians do more than just give advice on food intake? Indeed, they do! In honor of National Registered Dietitian Nutritionist Day, here's how I've seen maternal child dietitians advance good nutrition for happy, healthy families.
Promoting good nutrition for the first 1,000 days
There is solid evidence that nutrition during the first 1,000 days of life has a dramatic impact—good or bad — for the remainder of a person's life.
That means that nutrition, from the moment of conception until the child is about 2 ½ years old, is a critical factor in establishing and maintaining lifelong health.
Maternal child dietitians often play a critical role for the pregnant woman, and later, for the lactating woman and her infant or older child.
Helping with complex nutritional needs for compromised mothers and infants
While working in a major metropolitan medical center, I became acutely aware of my limited understanding of nutrition for preterm or compromised infants. I quickly made friends with our NICU's dietitian.
She seemed to know everything about the details of caloric needs, the need for a greater volume of fluid, fluid restriction, and much more. She also knew about all of those expensive formulas that are used by infants with special needs.
Even after I moved to employment elsewhere, I occasionally called her for a better understanding of conditions that were related to infant breastfeeding and nutrition. I still feel completely out of my depth when discussing nutrition for infants affected with phenylketonuria or other metabolic or nutrient-deficiency diseases.
I've also looked to dietitians to help me understand the nutritional needs of mothers with special situations. I interviewed Erica Gunderson about nutritional needs for mothers affected with diabetes. Similarly, I interviewed dietitian Allison Childress, RD, to gain insights into the nutritional needs and deficits of breastfeeding mothers who have undergone bariatric surgery.
Working with toddlers who are picky eaters
Who hasn't had a kid refuse food? It's pretty common. However, some children are persistent in their pickiness and may need special help. Melanie Silverman, RD, IBCLC, has a thriving private practice dedicated to helping these kids and their families.
Listen to my interview with Melanie to find out why children become picky eaters, what parents can do to ensure their children eat well, and when they should seek professional help. Melanie also helps children with complex medical conditions, such as Prader-Willi Syndrome.
Giving practical advice for meals and meal planning
Luckily, outstanding maternal child dietitians also help mothers and infants to get optimal nutrition that involve easy meal prep and kid-friendly foods.
Listen to my interview with dietitian Allison Childress and chef Aurora Satler, authors of The Ultimate New Mom's Cookbook, A Complete Food and Nutrition Resource for Expectant Mothers, Babies, and Toddlers.
I was entirely fascinated when Allison described avocados as "almost a superfood." In fact, I was so fascinated that I wrote a short post on the wonders of avocados.
Jaren Soloff RD, IBCLC, has a private practice that focuses the impact of weight stigma, healthism and fatphobia that can occur during pregnancy, birth and postpartum. She is also the author of The Postnatal Cookbook: Simple and Nutritious Recipes to Nourish Your Body and Spirit During the Fourth Trimester. You can listen to my interview with Jaren.
Promoting best practices in a variety of settings
I've encountered many maternal child dietitians mostly in the hospital or in private practice. Yet, while teaching my live courses, I've also encountered many clinic-based dietitians.
Here in the US, we're familiar with the role of the dietitian in WIC clinics. I enjoyed interviewing Tori Gwilliam RD IBCLC, who works at a WIC clinic here in the greater-Washington DC area. In a recent blog post, I also highlighted some of her main points about why families who are eligible for WIC benefits don't actually participate in the program.
Dietitians also advocate for best practices in childcare centers, elementary schools, and other places where young children live and eat. There's probably no end to the roles, settings, and impact that dietitians have for families during the breastfeeding period and beyond.
Have you worked with a maternal child dietitian for personal or professional reasons? Share how they've helped you in the comments below!
Share this