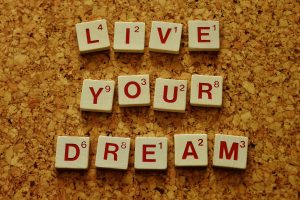 In his book "The Big Leap," Gay Hendricks, PhD, makes an important point about why we delay pursuing our dreams. He says that such delay is often not about finding time or having an unmanageable schedule. Rather, he says, it's often our internal obstacles that slow us down. His real message is: delaying your dream job or living your dream … it's up to you!
IBCLC® wannabes often tell me they don't have the time, the money, or the opportunity to pursue their IBCLC certification. Experienced IBCLCs tell me they can't land their new job because they don't have the time or skills to update their resume. That may be! These eternal barriers can seem formidable. But before you tell me that's what's slowing you down, stop to consider what internal barriers may be standing between you and this potentially career-changing pursuit.
Do you feel unworthy?
Many of us, especially women, may feel we don't deserve to be "something", whatever that "something" is. Few of us would say that out loud, but many of us do have the feeling buried deep down inside. Yet, you may be delaying your dream job if you harbor this feeling.
Do you fear failure?
I once heard some guru ask, "If you knew that you could take something on with a guarantee that you would not fail, what would you do?" That question stopped me in my tracks. I have plenty of fears of failure. (Don't we all?) And I can tell you with certainty, literally hundreds of people who have attended my exam prep courses have expressed the fear of failing the IBCLC exam. Fear of failure is a powerful force.
Do you fear success?
In the days when Breastfeeding Outlook began publishing a hard copy newsletter, I asked for only 1,500 copies to be printed. The printer looked at me oddly and asked, "Marie, are you afraid you're going to succeed with this thing?" His question took me aback. Being successful carries a number of feelings with it. For sure, it pushes you out of your comfort zone — and that's a strange feeling. Believe me, I've been there. Many, many times!
Do you feel "weird"?
I admit, I still feel just a tiny bit weird when people ask, "You do WHAT?" You're certified in WHAT?" Or, better yet, "Breastfeeding? What is there to teach?" But trust me, you'll soon be able to shrug off the "weird" feeling others try to foist upon you.
Start-itis could be delaying your dream job!
Hendricks uses the term start-itis. It's a great term, don't you think?
If your car battery has ever been dead, or your engine quirky, you have a clear-cut example of start-itis. It can be a whole lot harder to get going than to stay going. The same is true with earning a degree or a credential. Start-itis, although it is a real problem, doesn't have to be a permanent problem.
So that brings me to ask: Are you having start-itis applying for the IBCLCexam? True, you need to have your requirements met. But many people have met or nearly met those requirements. Others just need to step on the gas a little to get done before IBLCE's deadline.
If you already have 45 hours of lactation specific education, you still have time to get your other 45 hours with our all-online course. Or, if you need all 95 hours, we have that online course, too. In a little over 2-3 hours an evening, you can overcome start-itis and knock this thing out! If you're putting off your application, you could be delaying your dream job. Try to just do it now!
Otherwise, you'll be shut out. Keep an eye on IBLCE's deadlines!
Share this