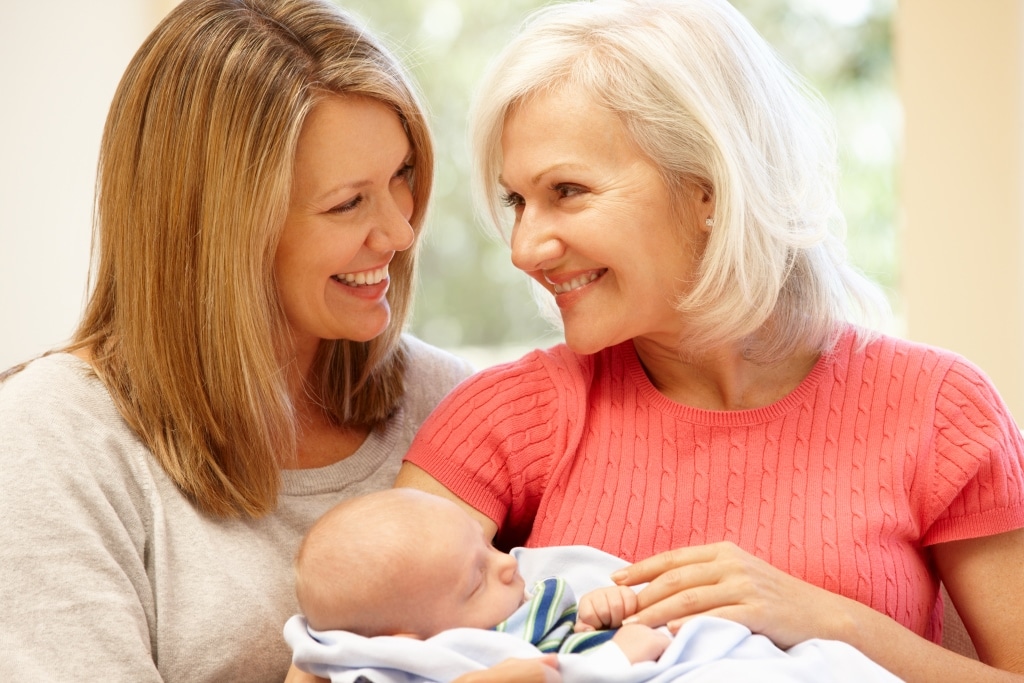 Over the years, I've seen how grandmothers of breastfed babies play heavily into family feeding dynamics. In my experience, grandmothers all behave and communicate differently. Certainly, they are all perceived differently, too! But, as I looked at the dearth of literature on grandmothers of breastfed babies, I noted a few similarities that you may not be aware of.
What do breastfeeding moms want from grandmothers?
One study shed some light on what breastfeeding moms want from their mothers or mothers-in-law. In short, it boiled down to advocacy. They found that such advocacy centered around two main themes:
valuing breastfeeding
loving encouragement
Certainly, that should come as no surprise. Whether we're breastfeeding a baby, getting a college degree, baking a pie, or running a marathon, most of us, even as adults, want our parents to value our efforts and encourage us when things aren't going very well.
Just as importantly, however, the study found three other themes that mothers perceived as important, especially if the grandmothers of breastfed babies had never breastfed their own children. These were:
acknowledging barriers
confronting myths
having current breastfeeding knowledge
Barriers to breastfeeding abound. And I have recorded hundreds of episodes on my podcast to "bust the myths and clarify the facts"! Hearing or feeling the need to defend one's decisions or actions against outdated information can for sure take a toll on anyone, but perhaps especially when the myths or information comes from grandmothers of breastfed babies.
What do grandmothers think?
Reid and colleagues interviewed 11 grandmothers to explore their perceptions of their role in supporting the family. They also wanted to know "the potential for grandmothers to influence infant feeding decisions and parenting practices of new mothers in an area of Sydney, Australia, in areas of low breastfeeding maintenance rates." They found three themes:
presence
position
power versus preservation
I think you'll find all of those themes described in my recent interviewJeanne Friebe, RN, IBCLC. Jeanne has over 30 years of professional experience, and she is a true expert! But, she clearly understands that her role — as she calls herself — "Granny-Nanny" differs from her role as an expert.
Although Jeanne may not have said it verbatim, her comments in the interview very much reflected what one of Reid's study participants who said: "I only give advice if I am asked."
What impact do grandmothers of breastfed babies have?
Negin and colleagues conducted a systematic review (a study of studies) for the 13 studies that met their selection criteria. Their aim was to estimate the effect of a grandmother's influence. Specifically, they looked at "whether or not the grandmother lived with the infant's family, the grandmother's education, and the grandmother's attitudes towards and prior experience with breastfeeding."
The researchers discovered that "five of the eight found a significant positive impact on breastfeeding when grandmothers of the infant had had their own breastfeeding experience or were positively inclined towards breastfeeding…" Furthermore, if grandmothers had a positive attitude or personal breastfeeding experience, mothers were 1.6 to 12.4 more likely to exclusively breastfeed or refrain from introducing early solid foods.
We have very little evidence to show us what mothers want from grandmothers, how grandmothers of breastfed babies perceive their role within the extended family, and their impact. But these studies and clinical experience give us at least a little insights into these roles and relationships.
What do you think? Let me know in the comments below.
Share this