Being a mom while serving in the United States military isn't always easy. Deployments, training, and often unorthodox hours all add to the complexities of being a working mother. But breastfeeding in uniform makes things is likely to be present more complexities than other jobs.
Nevertheless, many moms have made it work.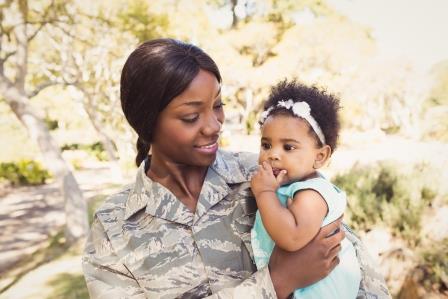 Persevering no matter what happens
Recently, 34-year-old active duty Airman Jaime Sloan made headlines when photographed while pumping during an Ironman 70.3 race! She even snagged a personal best, all while pumping during the run portion to feed her 7-month-old son. In a Fox News article, she said she had planned to pump during a stop after the cycling portion. But after realizing she was looking at a personal record, she decided to pump while running.
Finding ways to make breastfeeding in uniform work
Tara Glenn, who served in the Navy Reserves, says that her command was very supportive of her efforts to breastfeed. Sometimes, Glenn's husband would either bring their baby to her and she'd feed her in one of the private offices. Other times, leadership gave her an extra half hour at lunch so that Glenn could go home to nurse her. (Her baby wouldn't take a bottle). Truly, Glenn found ways to make breastfeeding work while serving.
Supporting one another
Megan Meredith Harless said that she stopped breastfeeding her middle child at 7 weeks because she was heading to the field for 10 days. She knew she wouldn't have the ability to pump and store milk. And, at the time, it didn't occur to her to pump in order to keep her supply up for after her return.
However, a few years later, Harless used her own experiences to help other soldiers. She allowed them time to use her office as a private area to pump. She also let them use an office fridge to store milk until she left each day. After leaving the Army, Harless successfully breastfed her youngest child for nearly 2 years.
Learning the answers to many unusual questions
Robyn Roche-Paull, author of Breastfeeding in Combat Boots: A Survival Guide to Successful Breastfeeding While Serving in the Military, has been a great example for how to continue breastfeeding in uniform. In our special Veterans Day podcast Robyn shared her tried-and-true tips and how-to information to facilitate success for breastfeeding in uniform. Robyn is also the founder of a non-profit organization committed to advocating, educating, and supporting all active duty, guard, and reserve personnel who are breastfeeding while serving in the military.
In appreciation to those who currently serve, we are now offering a 15% military discount to all active duty members and their spouses. Thank you for your service!
Share this