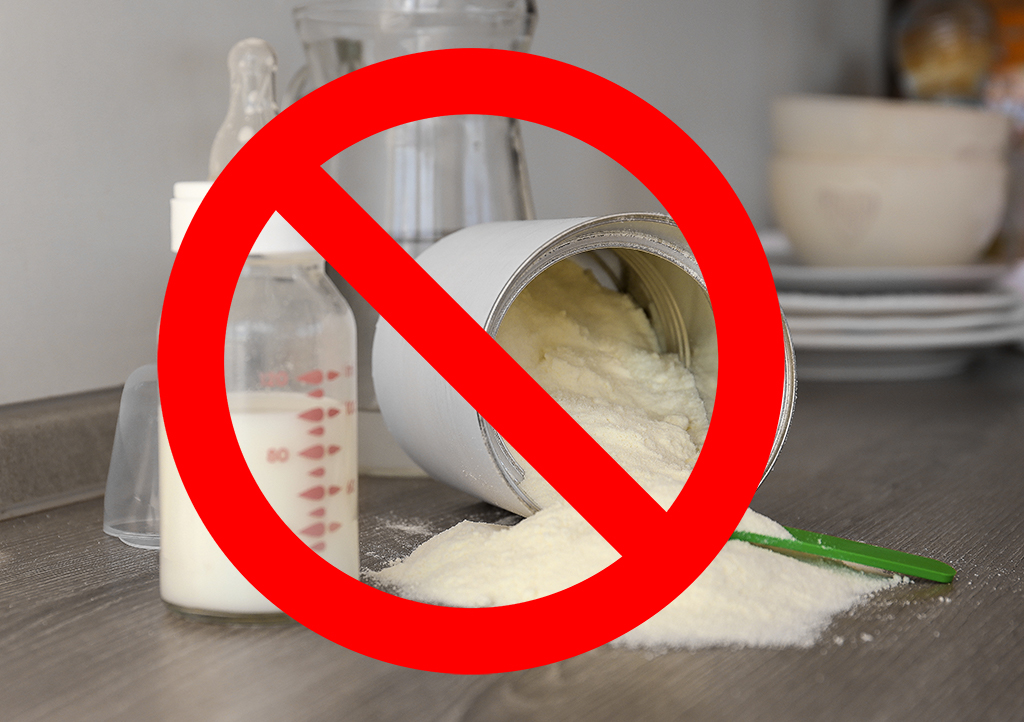 Soy formula became available in the United States in 1929, or perhaps even earlier. It was invented for those infants who were "allergic" to cow's milk. (Not cow's-milk-based formula.) About 12% of the formula sales in the United States are for soy-based formula.
Soy formula contains 4,500 times — or more — the level of phytoestrogens found in cow's milk or in human milk. Yet, for many parents and healthcare providers, soy milk is often the default for breastfed infants. That's unfortunate, since soy formula is associated with several potential risks.
Soy is a potent endocrine disruptor
Soy milk contains phytoestrogens, that is, plant estrogens. So, whether a substance is an animal-based estrogen or a plant-based estrogen, the effect of the substance can affect endocrine function.
There's good science that phytoestrogens are potent endocrine disruptors. For example, a high level of phytoestrogens can disrupted the thyroid.
Soy formula may cause infants to be constipated
My earlier guest, Dr. Bryan Vartabedian, didn't cite published research, but as pediatric gastroenterologist with decades of experience, he qualifies as an expert. In his book, Looking Out for Number 2, he says, "The most constipating formula is soy."  (Page 212.)
Other adverse effects of soy milk on children are uncertain
We've all heard or read claims that soy milk "causes" all sorts of "dangers". In truth, cause-and-effect is hard to prove, and "danger" is an inexact term. Nonetheless, there is no shortage of these stories on the Internet; one article listed as many as 170 "dangers" of soy formula. Some articles quote research studies, but their overall conclusions are often exaggerated or distorted. That being said, we still need to be concerned about with soy formula.
What's the relationship between soy formula and early onset of menses?
Research has begun to show that there's a possible link between early consumption of soy and earlier onset of menses. (And you may recall that in an earlier podcast, Donna Walls mentioned a soy formula-fed infant who began her menses at age six.)
We are a long way from casually concluding that there's a cause-and-effect relationship between early soy consumption and early onset of menses. In fact, we need more studies before we can even be sure of an association. But because soy is an endocrine disruptor, we need to be aware of the potential consequences of feeding soy-based formula to infants.
 What's the relationship between soy formula and adult health?
Maybe you've made the casual observation that adult women who have uterine fibroids have been fed soy formula as infants. Research has shown that Eker rats who have consumed soy are more likely to develop uterine fibroids.
Animal studies have also shown a correlation between soy consumption and other adult-onset problems, including breast cancer, brain cancer, and prostate cancer. Can we extrapolate research results in animal studies to humans? No. But these animal studies are, as Dr. Patisaul explained in our interview, "unsettling."
The AAP says soy formula gives "no advantage"
Interestingly, in 2008, the American Academy of Pediatrics (AAP) clearly stated, "Isolated soy protein-based formula has no advantage over cow milk protein-based formula as a supplement for the breastfed infant…" In that statement, the AAP insists that there is no evidence to support the use of soy milk in these situations.
Yet, in my experience, it is often the default for babies who are "allergic" to cow's milk, "fussy" or "colicky."
Think about it. Ten years after the AAP issued that statement, we still have 12% of infants being fed soy formula. Why?
Last thoughts about the risks of soy formula
Occasionally, I enjoy my soy-based drink or munch on my edamame beans. I will continue to do so. But I would give a stern warning to anyone who is supplementing their infant's diet with soy formula or, worse yet, giving soy formula as the sole source of nutrition for one year.
And everyone should be paying attention to the "sole source" issue.
During my recent podcast with Heather Patisaul, she summed up her thoughts well. She said exactly what the AAP has said: There is no advantage for soy-based formula for infants. I completely agree.
Share this