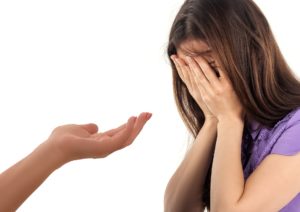 At this time of the year, I hear from so many of you who have taken one of my courses, and successfully passed the IBLCE™ Exam. You've called my office, sent an email, jotted a note in the comments section of this blog, or posted on Facebook. A few have sent handwritten notes. (DeAnne, yours was a tear-jerker!) I am so touched to hear about your successes, and I feel honored to have been a small part of your journey. However, some people whom I've never met have failed the IBLCE Exam. And only a small handful of them will contact me. I want them to get help after failing.
Maybe you're one of those people. You may feel discouraged, defeated, or exhausted. Maybe you feel it's just not worth it to try again. I could give you dozens of reasons to try again. But instead, I'll give you only three reasons.
Your friends and colleagues care
You didn't get this far without help from your friends and colleagues. There was someone inspired you. Someone told you how to get started with studying, or taking a course, or signing up for the exam. Someone was your official mentor — or maybe just your informal study buddy. Or maybe there was someone who, by merely being there, helped you to want to learn more or do better.
Maybe your spouse said, "You can do this, dear!" (I swear that is my husband's favorite line when I take on any big endeavor!)
Try to remember that just as they were there to help you get going and to cheer you from the start, they are there now to help you pick yourself up, brush yourself off, and try again. I'll bet they want you to get help after failing.
You care
You took the IBLCE Exam because you believed in breastfeeding. Maybe breastfeeding was a life-changing event for you.
Maybe you took the exam because you felt that your community was underserved, and needed an expert. Or, maybe you saw the disparities between groups of people in your community, and you wanted to make a difference to those mothers and babies.
Maybe you felt that having a credential would enable you to make much-needed changes in your hospital, or your clinic. Whatever it was, you did it because you cared. You were passionate about breastfeeding. You still are, actually. But now, you need to get help after failing the IBLCE Exam.
I care
This may sound sappy, but I really do care about whether people pass or fail that exam. In fact, I've become as passionate about helping IBLCE test-takers to succeed as I am about helping breastfeeding mothers to succeed.
Even if I don't know you yet, I do care about helping you to pass. I admit, there are a small handful of people whom I have not been able to help. But there are far, far more that I have indeed been able to help, including those who have failed before – multiple times.
I distinctly remember one woman who had failed the exam three times. She sobbed and wanted to know if I could help her. I told her I was very sure I could. She flew from the west coast to my course on the east coast, and she passed on her fourth try!
I also distinctly remember another woman who had failed the IBLCE Exam four times. Honestly, I secretly wondered if she was a lost cause. I worked with her a lot. She passed on the fifth try. Not by a whisker, but by a mile.
Get help after failing
I can't guarantee that I can help you to pass, but I have a great track record for helping other people to do so. And one thing is for sure: I can't help you if you don't ask for help after failing. I've offered my outstretched hand to plenty of others … and now, I'm offering it to you.
Whether you passed or failed, please forward this post to every IBCLC-wannabee you know. Help me to help them.
Share this