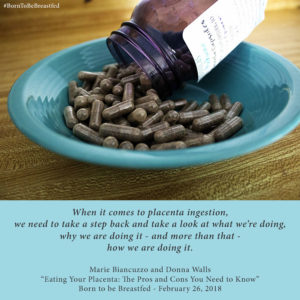 Placentophagia, which is consuming your own placenta, has become a fairly common practice.  Some women eat it raw or cooked. Others ingest it in capsule form.
With scarce evidence to condone or condemn, what should you do? To help you make your own decision, I have outlined seven important points. Read on to learn the info you need to know about your placenta.
The evidence for health benefits in the postpartum period is slim—or none

I am unaware of any academically-sound, published study confirming any benefit from placental consumption for postpartum mothers. In fact, even the ancient traditions of Chinese medicine tout only non-postpartum benefits, including treatment of infertility, arthritis, anemia, and other ailments.
Many parents seem to think that placental consumption will prevent or cure postpartum depression. While I understand there is some research being done on this topic, as of this writing, there is not a scrap of evidence to substantiate that.
The practice poses some risks for the postpartum mother

The National Institute of Child Health and Human Development (NICHD) has reviewed the risks of placentophagy. (Listen to my podcast of "Born to be Breastfed" with nurse, lactation and herbalist Donna Walls for more about this.)
NICHD documented the potential for infection—it has happened, and the risk must be acknowledged.
"Other mammals do it" doesn't mean "humans should

Here's a common phrase in placentophagy circles: All mammals eat their placentas. But consider:  
First, that's not entirely true.
Not all mammals have placentas, so those that don't clearly don't eat them. Some mammals like pinnipedia, cetacea, and camels have placentas, but do not eat them.
Second, placentas are not needed for survival.
Animals eat their placentas raw, immediately after birth. Some experts believe they do it to get rid of the smell of blood, which would attract predators to their young. By comparison, humans don't have that worry.
Third, the timing is different.
Humans don't typically consume the placenta immediately after birth. Rather, they take it home, allowing the blood and debris to accumulate. Eventually, they may eat it raw, such as in a smoothie. They may also cook or steam it. Another method is to sterilize or encapsulate it. They may consume it over a period of days or weeks. Eating the placenta is different for a human than an animal.
There are no standards for preparation of the placenta

Although the US Food & Drug Administration (FDA) is responsible for regulating medications, it has so far declined to regulate placentas. Rather, rules about processing placentas fall to state authorities—many of which have no standards, or ones that are not well-known.
Without industry or government standards, parents have no reassurance about the safety of the placenta (raw or processed) they consume.
The placenta may affect the milk supply
I am unaware of any scientific evidence linking placental consumption to either increases or decreases in mothers' milk supply. However, Donna Walls says she has noticed that many new mothers who come to her for help with a low milk supply have consumed their own placentas previously. It has become so common that Donna now routinely asks mothers with low milk supply whether they have consumed their own placentas.
Donna's experience suggests to me that maybe we should view low milk supply as a possible risk. I'm not saying it's "for sure"; I'm just saying it's "possible." Is it worth the risk?
You may regret it

Journalist Nancy Redd movingly wrote that she was disappointed in herself "for letting fear and insecurity cause me to make a potentially dangerous decision without doing due diligence on its safety."
We cannot feel good about ourselves for taking an action without doing due diligence. You can end up asking yourself if you just caved in to what some call a modern-day snake oil remedy.
If you're going to … do it safely

Acknowledging that there is no industry standard for processing placenta, it is hard to know whether a placenta has been handled safely. For example, it's possible that perhaps being heated to a high enough temperature would have killed the group B Strep that sickened a baby in one high-profile case.
For parents who have already decided to consume the placenta, let's encourage them to ask many questions to ensure good food handling practices.
What would you tell mothers about consuming their own placenta?
Share this