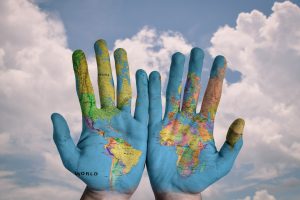 If you've taken my advice and looked over the IBLCE's Detailed Content Outline for the IBLCE exam, you may have noticed the category of "Public Health." But what does that mean?
When I lay out the curricula for my Lactation Exam Review or Comprehensive Lactation Course, I look at a number of sources, but find myself organizing my content around (1) the World Health Organization's (WHO) approach to public health and how it relates to breastfeeding, and (2) the IBLCE's subtopics for public health. Here is a run-down of what I think you can expect to see:
1. System-level health care problems or issues
A look at the WHO documents remind me that I may see questions related to problems with a global or community-level impact–think communicable diseases, foodborne illnesses, environmental conditions, and more. (After all, the IBLCE exam is administered around the world!) When thinking about any of these topics, ask yourself, where would a question about breastfeeding fit in?
I think about system-level inventions for those problems, such as vaccines, immunizations, clean water supplies, and anything else related to improving health for populations of people, not just individuals. Ask yourself, how might those interventions might impact feeding or breastfeeding — if at all?
And then there are the system-level issues IBLCE calls out at needing your attention: the Baby-Friendly Hospital Initiative, the International Code of Marketing of Breast-milk Substitutes, treatment of mothers/babies "in a healthcare system", and with "breastfeeding-related policies."
2. Data collection and quality assurance/improvement issues
Data collection would serve as an early warning system for managing or prioritizing impending public health emergencies. It might be collecting data about the number of people who are exposed to infectious diseases or environmental toxins, or a lack of clean water in a resource-poor country. But it might also be collecting data that is not disease-oriented. For example, data-collection about where the next hurricane might hit would logically lead to the IBCLC's role in emergency preparedness for infant feeding.
Likely as not, such data collection and quality assurance/improvement activities would help authorities to establish policies and strategies, and set priorities. For sure, breastfeeding is a public health priority! (That's how the Baby-Friendly Hospital Initiative got started!)
3. Community access to care
As mentioned above, IBLCE's Detailed Content Outline clearly mentions advocacy for policies related to maternal/child health and infant feeding, including the Baby-Friendly Hospital Initiative and the World Health Organization's International Code of Marketing of Breastmilk Substitutes. To me, this suggests that a test item on the IBCLC's ability to advocate for compliance with any previously-established international public health recommendations or guidelines (note I said international, not national) would seemingly be fair game for the exam.
The Detailed Content Outline also calls out "develop breastfeeding-related policies."
This seems to imply that test items would look to the IBCLC's role in actively introducing the ideas, initiating the plan, and rallying stakeholders to implement a policy in her facility or her community or perhaps globally.
This looks beyond the particular circumstances of one mother and her baby in the NICU to consider how do we ensure that the hospital supports all mothers in breastfeeding their babies in the NICU? And "advocating for mother/baby in the health care system" suggests that our attention should extend to issues that are not exactly breastfeeding, but relate to breastfeeding.
Issues such as labor/birth interventions and birth trauma, co-sleeping, domestic violence, breastfeeding in public, or developing community outreach programs might all be situations in which the IBCLC may advocate for breastfeeding families and could, therefore, be "fair game" for the IBLCE exam.
I'm not, and never have been, on the IBLCE's exam-writing committee, but that's where I start when developing content to prepare for those areas of the IBLCE exam.
What do you think of when you think "public health" and "breastfeeding?" Comment below.
Share this