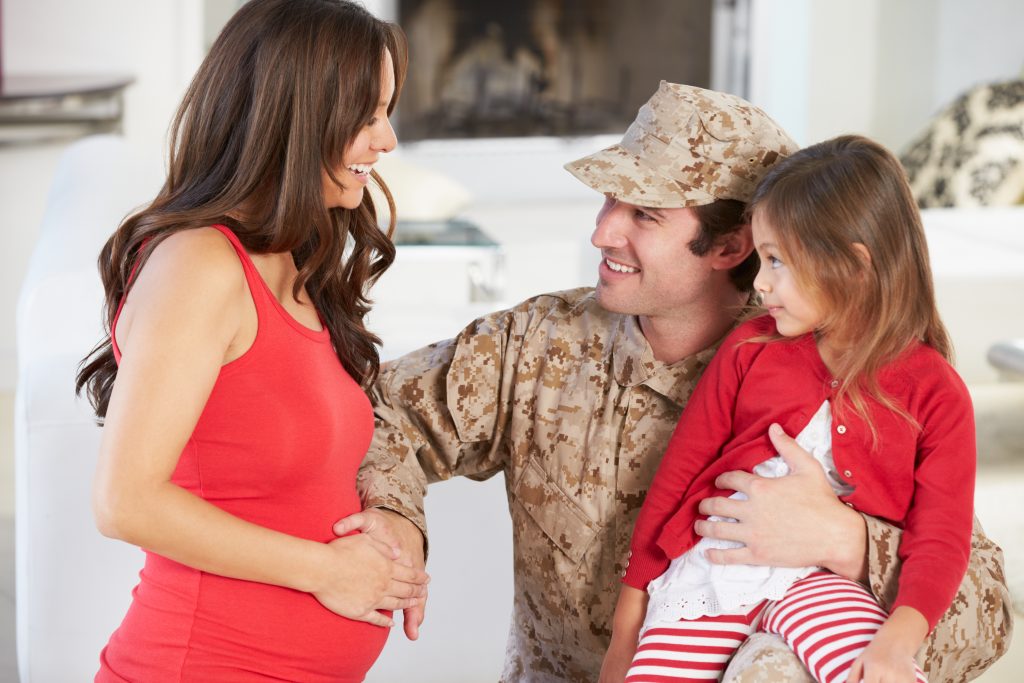 Military service members and their families are often stationed miles, and even oceans, away from extended family. Certainly a doula is a wonderful asset during childbirth. But there are a variety of special reasons why a military family might hire a doula.
In my recent interview with DONA-certified birth doula Amanda Dodson and postpartum doula Kari Haravitch, both having served in the military, we discussed how doulas can have a positive impact on the birth experience.
No extended family nearby
Members of my staff who are military spouses share that the military community is a tightknit group. When a baby arrives, people pitch in to help welcome the baby and help the family, picking up older siblings or letting out the dogs.
But, babies come when they're ready. Sometimes, that means before due dates, in the middle of the night, or when a partner is deployed or in the field. Recently having changed duty stations and not yet developed a support system is a great reason to hire a doula. Having someone there to hold mom's hand, help see to a birth plan, and just be there is exactly what the family needs.
Very often, a military family won't have their extended family nearby when it matters most. Hiring a doula helps to fill those gaps, and offers something special when it matters most.
Help in advocating your wishes
Even if both parents are present for the birth, it's easy to be swept up in the moment and not be able to clearly articulate your wishes. That's where a birth doula comes in. A birth doula (also called a labor doula) has the knowledge and skill to tactfully run interference between parents and medical staff. That will help you to communicate your wishes and carry out your birth plan.
Should you want to have a natural birth, your birth doula can advocate on your behalf.
The birth doula might translate medical terms so that parents can make informed decisions. A family stationed in a foreign country may hire a doula to translate a foreign language.
Similarly, a military family might hire a birth doula to help with birth practices in a foreign country (if the birth does not occur in a base hospital), or advocate for practices that the family would want.
Support after birth
What is a postpartum doula? In short, a postpartum doula helps take care of the mother after she has given birth. But, the postpartum doula cares for the newborn, too. A postpartum doula might help with tasks like diapering, bathing, and whatever else the newborn needs.
Some postpartum doulas might do light housework, cooking, running errands, and taking care of other siblings. And, some postpartum doulas are also lactation consultants and can offer expert help with breastfeeding.
Hiring a doula
Interview! Be picky! This is someone who will be helping you through a very personal and life-changing experience. Do not wait to hire someone until the last minute. It's important to find the right doula for the needs of your family.
Have you used hired a doula as a military family? How did hiring a doula impact your birth experience? What kinds of things did you look for when hiring a doula? Share your comments below!
We proudly offer a military discount to all active duty and retired military members and their spouses. We appreciate your service to our country and hope that we can give back to you in a small way for the big sacrifice you have made for us.
Share this