If you've read this blog before, you may recognize this post as one that ran in April 2016. A server problem in December 2016 caused the loss of nearly all blog posts – and post comments – from that year. We're re-posting this now, updated in April 2017, because the testing experience is a big topic for exam-takers not just in April 2016, but also in April 2017 and beyond. – Marie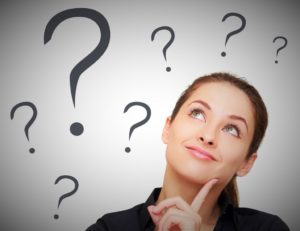 It's almost here: the first IBLCE exam date of the year. Feel nervous? That's normal. Anyone who takes a comprehensive, high-stakes, career-critical exam such as this — whether for the first time or after years of experience — is bound to be, a bit.
Doing a few practice exams will help. But if you've taken the exam before and are re-certifying after 10 years (or even 5), you might be wondering: Are there any differences in the exam this year from when I took it 10 years ago?
The answer is a resounding YES! There are at least 7 big differences in the IBLCE Exam that you'll see when you take it this year.
1. Computerized exams
You can only take the exam on a computer at a third-party testing site, anywhere in the world. "Written" versions of the exam are not an option. Check out more tips for taking this computerized exam. (For the October exam, paper-and-pencil exams are available on an extremely limited basis. Check IBLCE's site for details.)
2. Image-based vs. text-based
If memory serves me correctly, the IBLCE exam of 10 years ago had 200 items, evenly split between those with images (e.g., photos, diagrams) and those that were only text. Now, there are 85 image-based items and 90 text-based items.
3. Shorter testing
Timing is everything. Ten years ago, we had 6 hours to complete 200 questions, and a lunch break was given between 3-hour sessions. That's no longer the case. Candidates now get 4 hours to complete the exam, in two 2-hour sessions; the Detailed Content Outline from IBLCE explains that all of the text items are in one section and the images ones were in the other. This was a shock to me when I was in the hot seat!
4. Diversity
You'll be glad to see ethnic diversity in the images. The IBLCE serves an international community, and I think you'll agree that there are mothers and children of many different ethnic origins, and they are shown in more diverse settings.
5. Detailed Content Outline basis
The categories, and number of questions for each, has changed. Gone are the 13 disciplines and chronological areas. Today's exam items are built around the new Detailed Content Outline. While I doubt this will affect the types of questions much, I think that the percentage of questions in each of the main categories will change. Also, "Communication" has been added as a category, which I suspect will mean a heavier emphasis on communication.
6. Fewer "except" questions
There are fewer "except" questions. If you've taken my courses, you know that I hammer on how to deal with these "except" questions. (I call them "backwards" questions, because they force the candidate to identify the option that isn't correct rather than the one that is.) We heard through the grapevine that these questions had been eliminated, but when we called IBLCE they said we'll still see "except" questions on the exam. However, there will be fewer such questions than before.
7. More "sequential" questions
There may be one or more "sequential" sets of questions. I had one scenario with two questions. It is highly likely that this format will be repeated in the future.
Remember! Although the IBLCE exam may look like a completely different exam than it did ten years ago, its aim remains the same. And your goal remains the same, too: Success! Contact us if you need help in formulating a plan to meet that goal. We're always happy to help.
If you notice other differences in the IBLCE exam when taking it this year, why not drop us a line or comment below? We'd love to hear your experience!
Share this