Over and over I hear people who are taking the IBLCE exam within the next few months say things like: "I have to study for the exam," "I haven't started studying for the exam," or "I don't know where to begin in studying for the exam."
I've heard this for years and — even though the exam is less than eight weeks away — I keep hearing the same refrain this year. In person, on the phone, and on the web, IBLCE exam candidates are focused on one thing: studying. But should they really be studying, or should they be reviewing?
Does it seem I am just parsing words? I'm not. I've seen that many people find things to study, but not necessarily the information they need to review for the IBLCE exam. Few think about the topics listed on IBLCE's very specific exam plan. More often than not, in the interest of "studying," they go to yet another conference, read or re-read another book, or hang out on the web. That's fine — and it might be interesting or enlightening or even downright helpful in their everyday practice — but such an approach doesn't necessarily address the topics that will be on the IBLCE exam. If "studying" and "reviewing" were synonymous, it wouldn't matter what topics exam candidates took in. Any such activities would prepare them. They would pass. But that's not the case. Studying information in general and reviewing specific information for an exam are very different.
Both Dictionary.com and Merriam Webster define the term study as having to do with the acquisition of knowledge. Webster goes on to say that acquisition is about owning, getting or gaining, and specifically mentions a new skill. Studying is what you do to own information for the first time. Review, on the other hand, is quite different. Webster says that the word "review" is from the feminine past participle of the French verb revoir meaning to see again, reexamine.
If you are taking the IBLCE exam this year, I suggest you REVIEW the relevant material.
If you want to know more about becoming an IBCLC, register for one of my free webinars.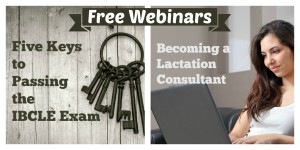 And if you don't get the results you want the first time you take the IBLCE exam, don't give up! Breastfeeding Outlook has helped many people to pass the exam with personalized assessments and resources, and can help you too.
Share this