For the past week, I've been teaching my Comprehensive Lactation Course and Picture Perfect seminar in sunny Orlando, Florida. It was an exhilarating week! Course attendees were exceptionally smart, hard-working, and appreciative. I was inspired by them. The teaching room was full of energy and—more importantly—synergy—for the entire week. This morning, I reflected on the course success.
Every single person in the group signed up for the course wanting more than just the 90 credits that are required to sit for the IBLCE exam. Each person was there to learn as much as she could from the course; to learn from other attendees after the course was dismissed each day; to become a better version of herself. One woman–39 weeks pregnant–shared that she attended the course to become a better nurse and a better mother. Several attendees said they could have attended a different course closer to home, but made the trek to Orlando because they felt my course would provide a better, more interactive learning experience. Two came from outside of the US. A few told me they had bought an online course from another vendor, but didn't find that to be a satisfying learning experience. They too signed up to become a better version of themselves.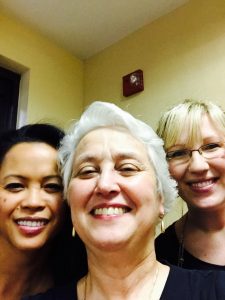 Over the years I have been teaching, I've noticed there are generally two kinds of people who enroll in an IBLCE exam prep course: (1) Those who attend out of a need to check the box—travel the shortest distance, pay the lowest fee for courses or materials, listen to the required content, and put forth the least possible effort. (2) Those who seem have a deep desire to become a better version of themselves through engaging in the learning process. They go the extra mile, learn the extra material, and enthusiastically engage in their own learning. This past week, there were 30 of the second type of people with in my Orlando. I felt as if I was watching their transformation during a 5-day period. It was fantastic to be a part of their process.
That energy and synergy has a relatively simple explanation. I do believe that as humans, our deepest desire is to become a better version of ourselves. All people seem to be aware of that desire. A few pursue it some, most, or all of the time. Most people ignore that voice calling them to be the best version of themselves. Which are you?
If you're one who wants to do more than "check the box" towards the IBLCE exam, I invite you to join me for a free webinar on "Becoming a Lactation Consultant." Register today for the next session, then join us online or on the telephone. It's a short (1-hour), easy, convenient start to becoming a better version of yourself.
Share this