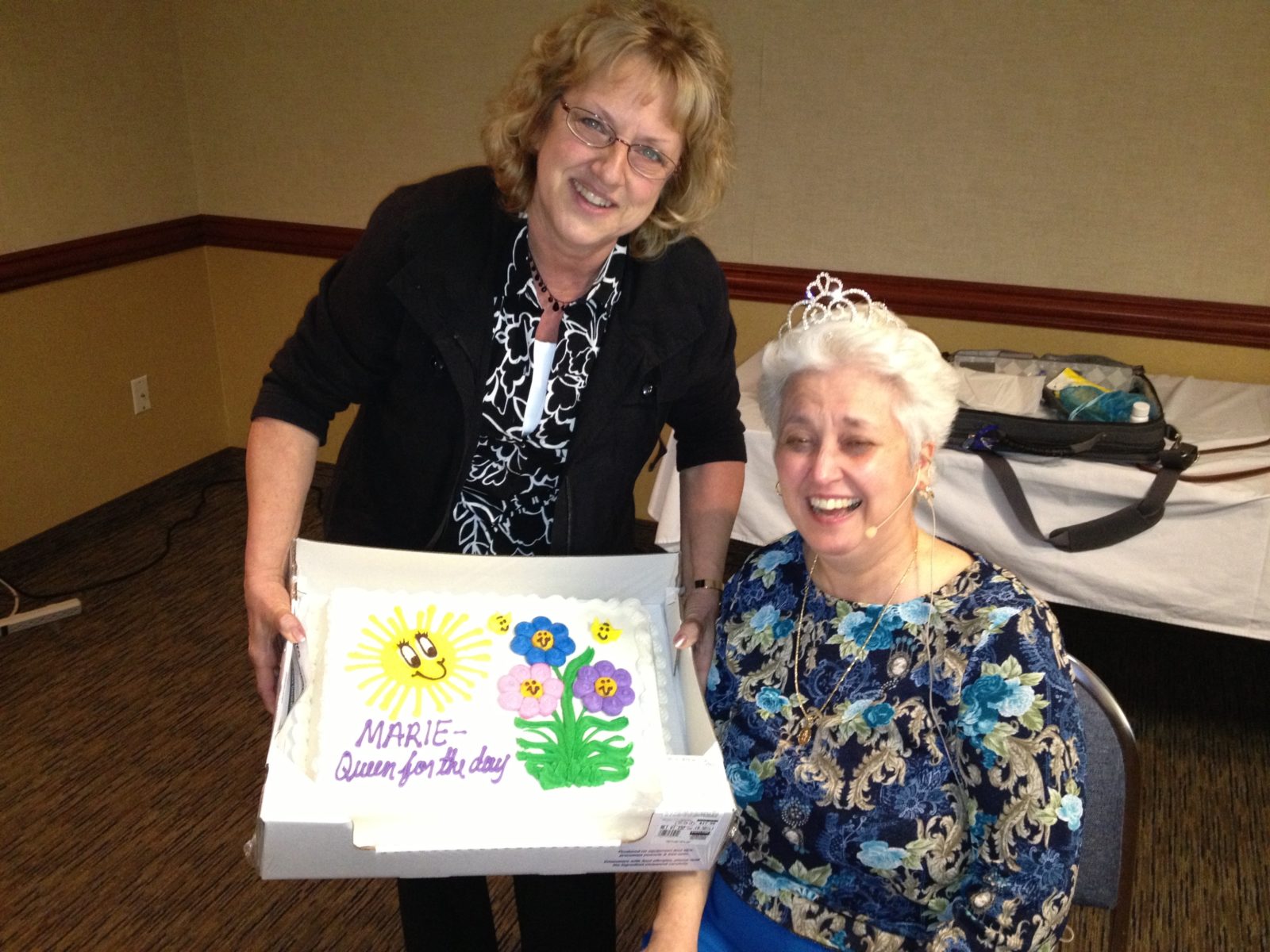 What's that? You see this picture and you're thinking, "Is Marie the birthday girl?" Oh, no, much better than that! Waaaaaaay MUCH better than that! (More on that in a minute.) I can honestly say I have enjoyed every live course I've ever taught in the past 25 years or so. But this particular course took the cake … literally! I cannot remember ever having had so much fun or laughing so hard as I did that week in February of 2013.
People wonder why they should attend a live course when they could go online and get their CERPs, contact hours, or CPEs for dietitians (live courses only).
Obviously, you'll learn information to help you tackle topics you may not have realized would be on the exam, and get that rich interactive learning experience we promised, but it is so much more than that. As can you can see from the photo, you'll get out of it what you put into it.
Experiencing diversity … first hand
We've had IBCLC candidates from all 50 states. More importantly, we've had participants who live in Canada, South America, Europe, the Middle East, Asia, and several who have spent years working in Africa. (I remember telling one woman who lived in Egypt, "I wouldn't fly half-way around the world to hear me, but I'm flattered that you did!") These days, with all of the focus on diversity in health care, it seems to me that experiencing diversity during lactation training makes a lot of sense.
People bond–before, during and after a live course
In the years that we have been offering this course, we've had attendees who have already bonded: work colleagues, former college roommates, twin sisters, a mother-daughter pair, and more. We've had bosses, peer counselors, PhDs and people from a wide variety disciplines.
A majority of attendees use their time outside of class to network. And by "network" I don't mean swap business cards. They help each other to find settings and/or mentors for their clinical experience. They commiserate with each other about obsolete hospital practices, and they find study buddies. I remember one pair who met at the course, and, even though they lived hundreds of miles apart, continued to study together months after the course had ended.
People get free advice
Every now and again I joke, "You didn't think these breaks were for YOU, did you?" I spend most of my 15 or 20-minute breaks giving attendees individualized help with their studies, their woes at the hospital, their job hunts, and more. At some point, I declare that I have 900 cc in my bladder and I need to get to the restroom before the next session begins!
Think about it. How many times do you get an opportunity for personalized help from a renowned expert in the field?
The interactive learning strategies
I remember one woman who said to me, "Wow, I saw on the brochure that you had interactive learning strategies, but I wasn't expecting this."
Half-joking, I replied, "What did you think it was going to be? Like, just seeing bullet-point slides in the dark all week with a Q&A tacked on at the end?" To my utter astonishment she replied seriously, "Well, yes!"
Nope. That's not how I teach.
It's more economical than you think
We do just about everything to help you with the registration fee. There is an early-bird special. We offer a payment plan, and we'll spread the payments out as far and wide as possible. We have a regular package and a premium package–something for everyone's budget. And, we have a scholarship. (You're too late for that this year.) If you want to attend, you'll find a hack for the registration fee.
The fun, the fun, the fun
I've worked in hospitals long enough to give me the gray hairs I now have. People frequently ask what hospitals "should" do. The week that we took this photo, the group picked up on how many times I said, "If I were Queen for a day, I would …"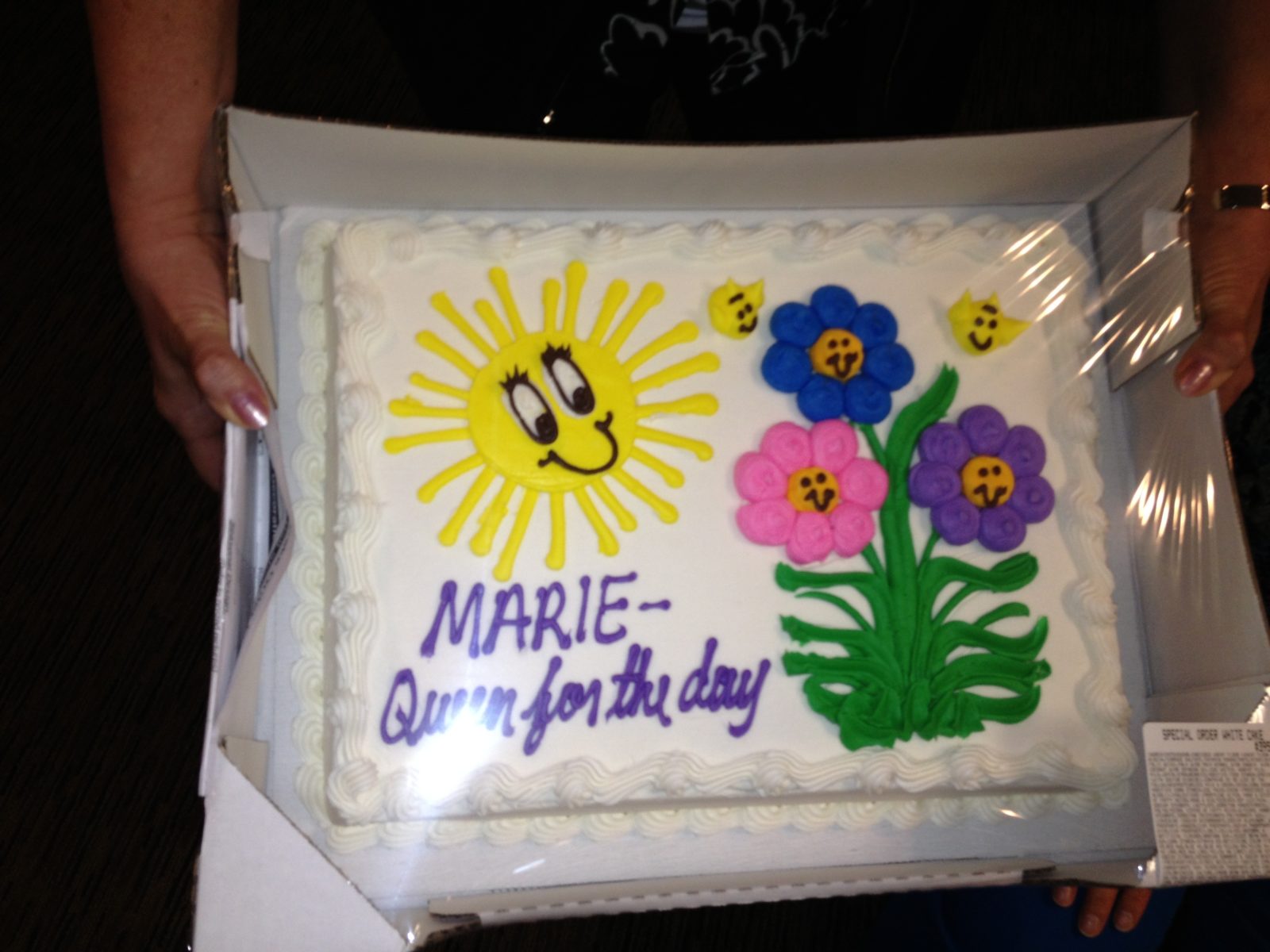 The group in San Diego took the fun into their own hands. Lo and behold, on the last day of the course, to the thunderous applause of 42 attendees, Tracy crowned me Queen for a Day! The group had bought a large cake for the "crowning." As you might see from the photo, I was laughing so hard I cried. And the whole room rocked
Will you be joining me for a live course?
Share this