Do you want to be an IBCLC? Have you considered a live,  in-person lactation course (or at least a course with an in-person component) to meet your requirement for 90 hour requirement? I say "live, in-person" because these days, I also teach live on the web. So to be clear, in this post I mean an on-site, live, in-person lactation course — a butts-in-seats experience. I could burn your ear for hours about the many reasons I believe a live, in-person lactation course is so important. But here's my #1 reason: Active learning. I'll also share the top 5 reasons our course attendees have told us.
Active learning strategies WORK!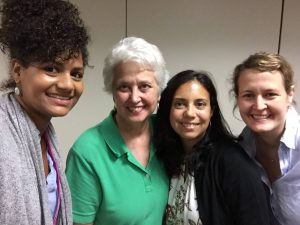 There are a seemingly endless number of active learning strategies that can be used during a live, in-person lactation course. I use them better than anyone I know. But so far, I have been able to use only a very small percentage of those strategies when teaching online.
We've had literally thousands of people attend our live, in-person lactation courses, or courses with a live component. I ask them to name reasons why they attended "live" was important to them. I have stacks of cards with their written answers.
My team and I continue to be astonished by the number of attendees who echo my top reason, telling us things like: "I can't learn by watching videotapes. I need some interaction to make the learning stick." We have also encountered several people who have bought an all-online course elsewhere, and later bought our blended course. ("Blended" being a course with a live component.)
A live, in-person lactation course has fewer distractions
Young mothers often tell me, "I can't hunker down to serious study at home. There are always meals to be made, kids to take care of, and phones to answer. I need to immerse myself in the learning experience."
Optimal learning occurs in conducive learning environments. Honestly, it's not about putting in the time — it's about passing the exam! Although online education is "convenient" for some, others find it just opens the door for too many distractions.
Online learning takes focus away from the content
Online learning requires that you use your tech-savvy skills, organize tons of materials, discipline yourself to budget your time, and self-determine your mastery (or lack thereof) of the course content. All of that detracts from the time and attention you could be paying to the stuff that's going to be on the IBLCE exam.
In-person learning provides effective, personal feedback
Although feedback requires an interaction, it's more than interaction. Feedback occurs when the instructor reads your non-verbal cues, stops, and asks if you are confused. Feedback is what happens when the instructor or someone else chats with you in the hallway during the break, and helps you to overcome your individual learning block, or expresses confidence in your ability to pass the IBLCE exam.
Feedback can be direct, and swift. When people have misconceptions, I'm fairly blunt. I say, "Nope, not true." The flaming extroverts have often remarked, "I'm so glad you just told me flat-out NO. I'd rather be wrong today than on the exam!"
What amazes me even more is when even the quietest introverts speak up at least once by the end of the course. It's not a "requirement." But having an environment where everyone feels free to chime in is valuable.
Make no mistake; everyone values feedback when facing such a daunting exam.
A live, in-person lactation course has non-academic benefits
People often tell me how much they enjoy the "networking" of the in-person course. By "networking", they don't mean exchanging business cards. They mean going to lunch with other attendees. They mean sharing war stories, study strategies, practice-setting frustrations, and more. Shucks, occasionally one attendee knows a person who might be a mentor for another attendee, and she offers to make the introduction. How great is that?
Sure, I get it; these days, people have all sorts of electronic means for interaction. But you can't tweet a handshake. Being friends on Facebook is not the same as lingering over a cold beer after the course is dismissed on the first day, or getting a colleague's hug on the last day.
Taking our online-only course — or anyone else's — isn't bad. It can be good! But it's not for right for everyone.
Want to join Marie at her Comprehensive Lactation Course, or Lactation Exam Review? Maybe Marie's hugely popular Picture Perfect seminar? You'll find registration information and other details on our web site.
Share this